Carpet cleaning methods and products have everything to do with the quality of the indoor air. Oddly enough some people believe that cleaning the carpets is a routine housework, which is necessary merely for keeping clean floors. Though, all chores related to house cleaning would contribute to the healthy home environment and for this reason upholstery and sofa cleaning are equally important as well.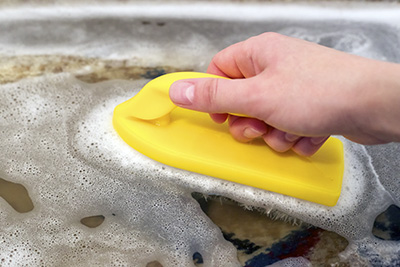 It is crucial for all homeowners and businessmen to understand the significance of spotless carpets for good clean air indoors. There are many microorganisms in the air but they are not harmful to humans in the open space. Though, they may have terrible impact on our health when accumulated in confined spaces. The problem is that they are multiplying rapidly due to multiple stains and dirt we bring in with shoes or pet urine and that's why there is so much fuss about immediate stain removal. Clean carpets free of harmful particles and blots will actually determine the level of your health.
Ecofriendly products for healthy indoor air
The objective here is not only the frequency and great need for rug cleaning. It is also important to consider your options when it comes to the products used since strong chemicals will have the same, even worst effects on your health as dirt would. Synthetic chemicals, which are usually contained in common solutions on the market, would cause severe health problems related with nausea, headaches, respiratory problems and fatigue while the toxicity of some of them could also cause cancer or affect the central human nervous system.
It is vital to remember that your children would sit and probably put their mouth on carpets and pets would also lick them. You may walk barefoot and the effects of the wrong detergents to the productivity and overall behavior and health of workers would leave you speechless. Specialists of Carpet Cleaning West Hollywood would recommend ecofriendly products, which may have equal strong effects on stains but you can also use natural products, such as the vinegar or the baking soda, for odor removal. Keeping the carpets clean with the right products will not only help you maintaining spotless homes but will also ensure your good health.